Overall dimensions
Width:

1 100 mm, with the door open: 1 970 mm

Length:

1 970 mm

Height:

2 580 mm

Weight:

390 kg
Consumables
Liquid nitrogen consumption:

3 litres per session

Operates on:

220/230V, 50/60 Hz AC

Power consumption:

1.5 kW
Description
The Aurora cryosauna is made of special fiberglass and lined with water-resistant fabric on the inside. You can choose between 180 colors for the outer shell and 12 colors for the interior upholstery. A catalogue with the full range of exterior colors can be downloaded below, along with a file with the interior colors. To visualize your options, see a widget at the bottom of the page.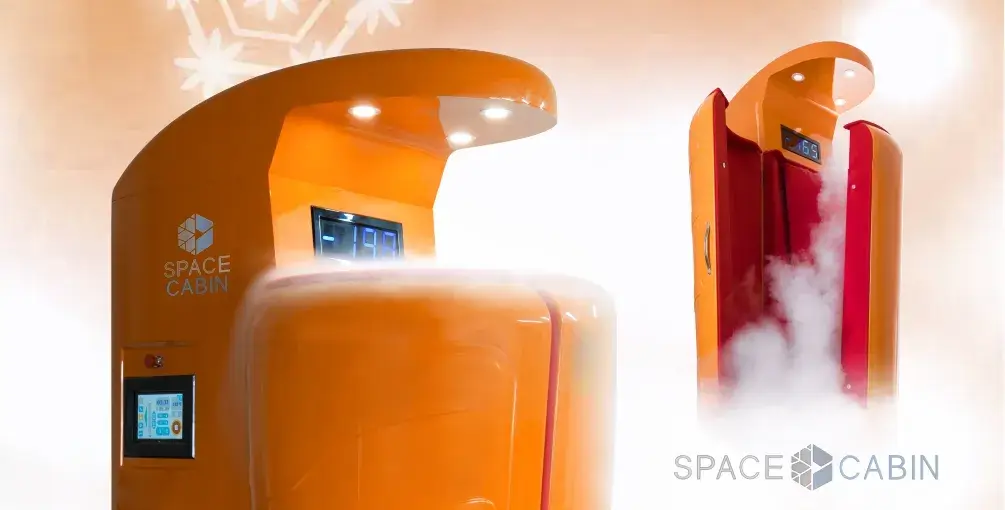 Highly customizable
This model of cryotherapy chamber is available in two versions, with liquid nitrogen fed from a large pressurized tank or from a small non-pressurized Dewar tank.
Contact our managers to get advice about the best option for your business.
The Aurora cryosauna comes with an accessory kit which includes fur boots and additional step pads for the automatic lift platform.
Features
Reliable
Reliable
• Upgraded double lift with a weight limit of 180 kg
• High-quality and safe materials from trusted suppliers
• Two-year manufacturer warranty
• Quality confirmed by CE certificate
Compact
Compact
• Compact footprint: a cryosauna covers only 4 sq.m.
• Due to modular assembly small cryosauna components can fit through standard doorways
Cost-effective
Cost-effective
• Low liquid nitrogen consumption
• Low power consumption
Advanced
Advanced
• 10-inch touch screen control panel with simple user interface
• Daily/monthly/yearly session count
• Remote diagnostic and maintenance via the Internet (Wi-Fi or LAN cable connection required)
Customizable
Customizable
• A range of colors to choose from both for the interior and the exterior
• Customers' logo can be embroidered on the interior upholstery and displayed on the outer shell
• Mobile solution available, to be installed in a trailer or vehicle
• Depending on the planned number of customers and location, our cryosaunas can be made in valve or Dewar versions
Readily available
Readily available
• Shortest lead time, immediate delivery is available upon request
• Delivery, assembly and maintenance anywhere in the world
• Optional delivery from a warehouse in Europe
Visualize custom colors