Space Cabin™ is a well-known brand of cryotherapy equipment called individual cryochambers, or cryosaunas.
Our products are present on the market for almost twenty years. As a manufacturer PP Kriokomplekt puts a strong emphasis on the quality improvement, relying on our experience in manufacturing as well as in research and development, to make sure that our machines are not only safe and reliable, but also easy to operate.
Initially, our company supplied cryosaunas exclusively to the domestic market. But with whole body cryotherapy gaining more and more popularity worldwide we started exporting our equipment on 2010 and made a name for ourselves in the global market. Today we have customers and distributors around the world. Therefore, our prospective clients can choose a convenient location to have first-hand experience of our cryotherapy machines.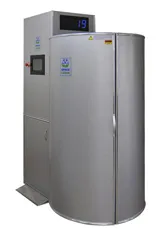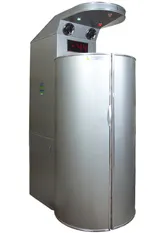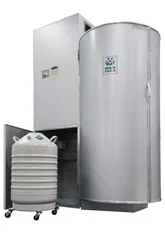 2008
Cryosauna Luxe in a bamboo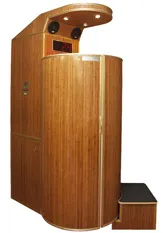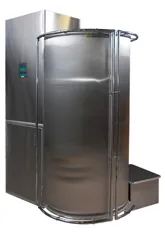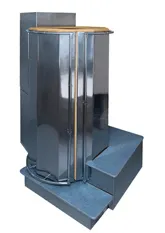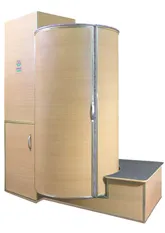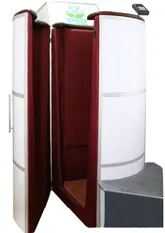 Over past 19 years we have developed and produced more than 10 models of the Space Cabin cryosauna which differed in design, construction, electronics, control options and shell materials.
In our first cryosaunas operation panel was placed on the right side of the device too high for an operator. This required adding a special step for operator's access and increased overall dimensions of the machine making it awkward to operate. Therefore, we built in the control elements and moved an operation panel to the left side placing it at a comfortable height. This solution made operation more convenient and reduced the size of a cryosauna. Now, as a next step, we use a touch screen control panel with intuitive interface which makes the user journey as simple as possible.
We place special emphasis on the quality of shell materials used. At different times we used inox, bamboo, special plywood etc. Currently we changed to fiberglass and compounded plastic because of their durability.
In our latest models we have upgraded lifting mechanism to make it more stable and reliable. By using modern lift motors we have improved both the stability of the lifting platform and its load limits.
We have also redesigned the gas preparation device to reduce the amount of liquid nitrogen spent for a session. As a result, currently our cryosaunas have lowest liquid nitrogen consumption on the market.
To ensure more uniform distribution of the cold mixture in the cabin we have changed important components inside the cabin and redesigned the cabin itself.
Over the time we have experimented with different options like remote control, colored LED lights, speakers and many others, but dropped them deciding to focus on the quality of a cryotherapy session instead.
Manufacturer certificate
CE Certificate